2021 Africa Plant Nutrition Scholarship Program for African Students
The African Plant Nutrition Institute (APNI) has released the details of the 2021 Plant Nutrition Scholar Award program that is available to students enrolled in programs specializing in the sciences of plant nutrition and management of crop nutrients. 
The 2021 African Plant Nutrition Scholar Award Program will offer ten (10) awards of $2,000 (U.S. Dollars) to M.Sc., M.Phil., or Ph.D. students in the disciplines of soil science, agronomy, and horticultural or tree crop science with a focus on plant nutrition. Students must also be attending a degree-granting institution located in Africa.
Application Deadline: 31st May 2021.
Eligible Countries: African countries
To be Taken at (Country): African countries
Type: Masters, PhD
Number of Awards: 10
Value of Award: USD $2,000 each.
Eligibility: Graduate students are eligible if they are:
Currently attending a degree-granting institution located in Africa.
Candidates for M.Sc., M.Phil., or Ph.D. degrees, who are currently enrolled in a program of graduate study as of the application deadline. Applicants who have already completed their degrees are ineligible.
Students in the disciplines of soil and plant sciences (including agronomy, horticulture, ecology, soil fertility, soil chemistry, crop physiology, environmental science, and other areas related to crop nutrition) are encouraged to apply.
Past winners of the Award are not eligible.
Application Process: Click Here to Begin Application Process
Kaura Polytechnic postpones resumption from mid-semester break
Posted by
Dende
16th September, 2021   |   Comments
The Management of the Federal Polytechnic Kaura Namoda at its meeting held on Wednesday, 15th September 2021 reviewed the above and wish to regrettably announce that the resumption date of 21st September 2021 is no longer feasible considering the security measures in the state viz-a-viz the restrictive measures put in place which will make the stay of our students on campus very difficult and tasking.
In view of this, a new resumption date would be communicated as soon as the security situation improves and the restrictive measures relaxed in order to make life easier for our dear students on campus.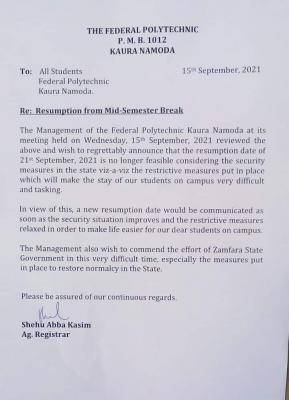 The Management also wishes to commend the effort of the Zamfara State Government in this very difficult time, especially the measures put in place to restore normalcy in the State.
Please be assured of our continuous regards.
2021 International Student Scholarships at University of Nevada – USA
The University of Nevada, USA is offering the 2021 International Student Scholarships to individuals who are seeking to undergo a degree program at the Institution.
This Institution provides high quality education at competitive price with a variety of funding opportunities. Approximately 80 percent of international graduate students receive graduate assistantships from academic departments.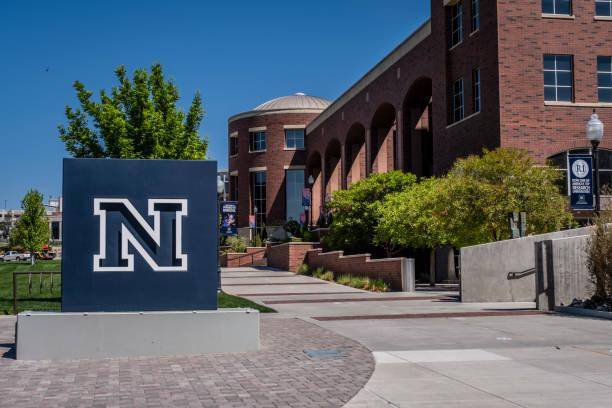 Application Deadline: February 1, 2022
Eligible Countries: International
Type: Undergraduate and Graduate degree
Value of Awards: Tuition-fees
Number of Awards: Not Known
Eligibility: 
Any continuing or new F-1 or J-1 student enrolled in a degree-seeking program at the University.
Applicants must meet the University Satisfactory Academic Progress (SAP) requirements
Application Process: Click Here to Apply
MOUAU notice on signing of departmental clearance forms for newly admitted students
Posted by
STA222
15th September, 2021   |   Comments
Sequel to Management directive concerning the ongoing signing/stamping of Departmental Clearance Forms at the admissions office, write to inform you that the admissions office would no longer append its signature on the students Clearance forms except for those with issues of change of course/rejection from the department.
Students are advised to proceed straight to the Portal once they are cleared from their respective Colleges/Departments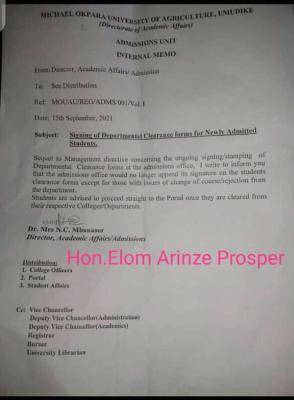 Signed
Dr. Mrs N.C. Mbauasor
Director, Academic Affairs/Admissions