ESUT Post-UTME/DE 2021: cut-off mark, eligibility and registration details
This is to inform all candidates who chose Enugu State University of Science and Technology (ESUT) in the 2021 UTME and all those who did not choose ESUT but now wish to apply, that there will be an online screening for admission. Please note that candidates who now wish to change to ESUT should first apply to JAMB for a change of University.
Candidates are to note the following: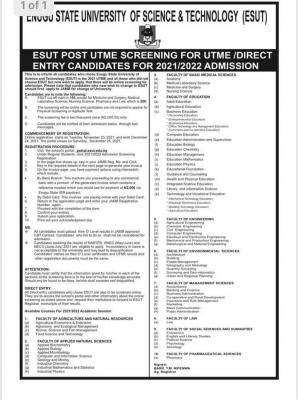 A. ESUT cut-off mark is 150, except for Medicine and Surgery, Law, Medical Laboratory Science and Pharmacy which is 200.
B. The screening will be online and candidates are not required to appear for Physical Screening or Aptitude Test.
C. The screening fee is two thousand naira (N2,000.00) only.
 D. Candidates will be notified of their admission status through text messages
COMMENCEMENT OF REGISTRATION:
Online registration starts on Tuesday, November 23, 2021, and ends on December 24, 2021. The portal closes on Saturday, December 24th, 2021.
REGISTRATION PROCEDURE:
1. Visit  the school's portal:  https://portal.esut.edu.ng/ScrenningApplication.aspx
2. Key in the required details in the next page to generate your invoice.
3. On the invoice page, you have payment options using Interswitch; which include:
By Bank Branch: This involves you proceeding to any commercial bank with a printout of the generated invoice which contains a reference number which you would use for payment of N2,000 via Enugu State IGR paydirect.
By Debit Card: This involves you paying online with your Debit Card.
4. Return to the application page and enter your JAMB Registration Number again.
5. Proceed with the completion of the form.
6. Confirm your entries.
7. Submit your application.
8. Print out your acknowledgment slip.
NB:
All candidates must upload their O' Level results in JAMB-approved CBT Centres. Candidates who fail to do so shall not be considered for admission.
Candidates awaiting the results of NABTEB, WAEC and NECO 2021 are  eligible to apply. Inconsistency in name is not acceptable to the university and may lead to disqualification.
Candidates' names on their O' Level certificates and UTME results and other registration documents must be the same.
ATTESTATION:
Candidates must certify that the information given by them in each of the sections of the screening form is to the best of their knowledge accurate. Should any be found to be false, candidate shall consider self disqualified.
DIRECT ENTRY:
 All direct entry candidates who chose ESUT are also to be screened online. They are to access the school's portal and other information about the online screening as stated above and  request their institutions to forward to ESUT Registrar  transcripts of their results.
Available Courses For 2021/2022 Academic Session:
1. FACULTY OF AGRICULTURE AND NATURAL RESOURCES
(a) Agricultural Economics & Extension
 (b) Agronomy  and Ecological Management
 (c) Animal  Science and Fish Management
(d) Food Science and Technology
2. FACULTY OF APPLIED NATURAL SCIENCES
 (a) Applied Biochemistry
(b) Applied Biology
(c) Applied Microbiology
(d) Computer and Information Science
(e) Geology and Mining
 (f) Industrial Chemistry
 (g) Industrial Mathematics and Statistics
 (h) Industrial Physics
3. FACULTY OF BASIC MEDICAL SCIENCES
 (a) Anatomy
(b) Medical Laboratory Science
(c) Medicine and Surgery
4. FACULTY OF EDUCATION
(a) Adult Education
(b) Agricultural Education
(c) Business Education
(d) Computer Education
(e) Education Administration and Supervision
(f) Education Biology
(g) Education Chemistry 
(h) Education Management
(i) Education Mathematics
(j) Education Physics
 (k) Educational Foundation
(l) Guidance and Counseling
(m) Health and Physical Education
(n) Integrated Science Education
(o) Library  and Information Science
(p) Technology and Vocational Education
(Mechanical Technology Education)
(Electrical/Electronics Education)
(Building Technology Education)
(Agricultural Education)
5. FACULTY OF ENGINEERING
(a) Agricultural Engineering
(b) Chemical  Engineering
(c) Civil   Engineering
(d) Computer Engineering
(e) Electrical and Electronics Engineering
(f) Mechanical and Production Engineering
(g) Metallurgical and Material Engineering
6. FACULTY OF ENVIRONMENTAL  SCIENCES
(a) Architecture
(b) Building
(c) Estate Management
(d) Geography and Metrology
(e) Quantity Surveying
(f) Surveying and Geo-informatics
(g) Urban and Regional Planning
7. FACULTY OF MANAGEMENT SCIENCES
(a) Accountancy
(b) Banking and Finance
(c) Business Administration
(d) Co-operative and Rural Development
(e) Insurance and Risk Management
(f) Marketing
(g) Mass Communication
(h) Public Administration
8. FACULTY OF LAW
(a) Law
9. FACULTY OF SOCIAL SCIENCES
 (a) Economics
(b) Political Science
(c) Psychology
 (d) Sociology
10. FACULTY OF PHARMACEUTICAL SCIENCES
(a) Pharmacy
University of Mkar 3rd Batch Post-UTME screening exercise, 2021/2022
Posted by
Dende
2nd December, 2021   |   Comments
University of Mkar, Mkar wishes to announce to all applicants seeking admission into the Undergraduate Programmes of the 2021/2022 Academic Session to her Third POST UTME Screening
Date: Monday 6th December to Wednesday, 15th December, 2021.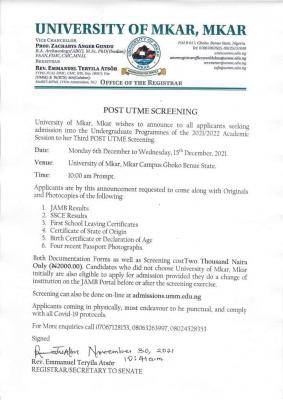 Venue: University of Mkar, Mkar Campus Gboko Benue State.
Time: 10:00 am Prompt
Applicants are by this announcement requested to come along with Originals and Photocopies of the following
1. JAMB Results
2. SSCE Results
3. First School Leaving Certificates
4. Certificate of State of Origin
5. Birth Certificate or Declaration of Age
6. Four recent Passport Photographs.
Both Documentation Forms, as well as Screening, cost Two Thousand Naira Only (2000.00). Candidates who did not choose the University of Mkar. Mkar initially are also eligible to apply for admission provided they do a change of institution on the JAMB Portal before or after the screening exercise.
Screening can also be done on-line at admissions.umm.edu.ng
Applicants coming in physically, must endeavour to be punctual, and comply with all Covid-19 protocols.
For More enquiries call 07067128153, 08063263997,08024528353
LASU students declare support for Governor Sanwo-Olu's peace walk
Students of the Lagos State University (LASU) have thrown in their support for the proposed Peace Walk Initiative by the Lagos state government following the controversies that trailed the initiative when it was first announced on Tuesday, November 30.
The students pledged to accompany Lagos state governor, Babajide Sanwo-Olu for the peace walk after he paid a visit to the school to commission the newly built students arcade at the institution.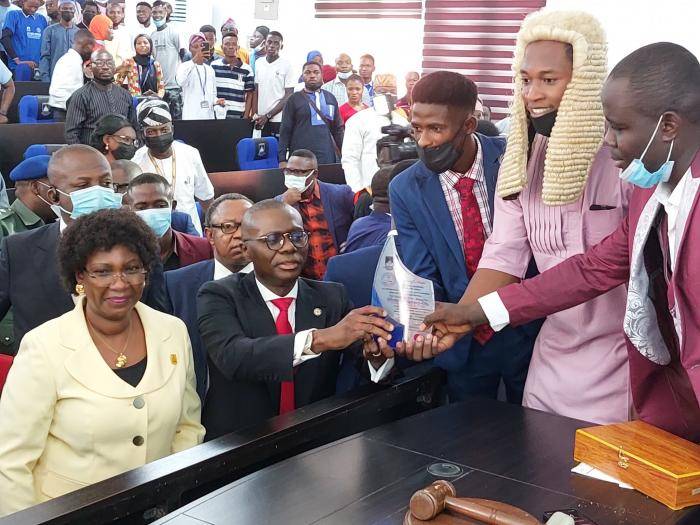 The governor was welcomed by hundreds of students of the school led by the president of the Student Union Government, Comrade Oladipupo Uthman Badmus, and Speaker of the Students Union Representatives, Rt. Hon. Mustapha Adejuwon.
The student union representatives described the Governor described as a youth-centric Governor and commended him for the giant strides in Lagos State, especially in the education sector.
FUNAI releases post-UTME results for 2021/2022 session
Posted by
STA 222
2nd December, 2021   |   Comments
This is to inform all candidates who participated in the post-UTME Screening exercise of FUNAI for the 2021/2022 academic session that the results have been released and can be checked following the results as outlined below:
How to Check AE-FUNAI Supplementary Post-UTME Screening Result 2021/2022 Session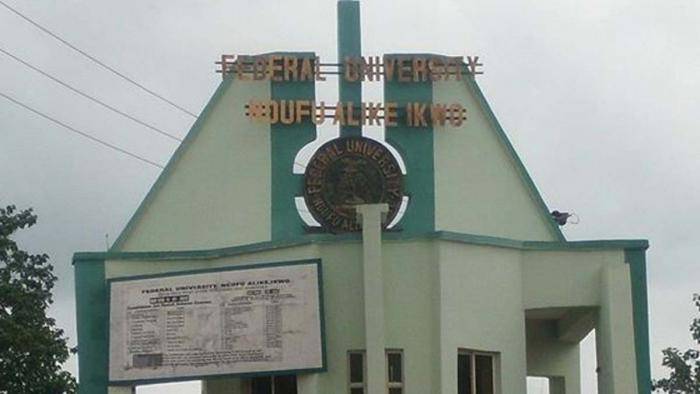 To access the result, candidates are expected to pay One Thousand Naira (N1,000.00) only, by following the steps below:
1. Kindly log on to FUNAI Post UTME result checking portal via "https://portal.funai.edu.ng/login.aspx 
2. Enter your "JAMB Registration Number" to login
3. Select your payment option: Bank IT (Card payment ) or Generate invoice
4. Generate invoice from the portal Proceed to any bank for your payment
5. Proceed to any bank with your etranzact invoice number to pay
6. Return to the porta, login and enter your "Etranzact PIN"
7. Proceed to check your PUTME screening result. 
Goodluck!!